Visualize your network and security services in a cybersecurity mesh
The Splunk platform removes the barriers between data and action, empowering observability, IT and security teams to ensure their organizations are secure, resilient and innovative.
Founded in 2003, Splunk is a global company — with over 7,500 employees, 850 patents and availability in 21 regions around the world — and offers an open, extensible data platform that supports shared data across any environment so that all teams in an organization can get end-to-end visibility, with context, for every interaction and business process. Build a strong data foundation with Splunk.

Splunk Enterprise Security
appNovi integrates with Splunk SIEM via API to retrieve logs and security event data to visualize your cyber assets, their network connections, dependencies, and risk. You can explore cyber assets and their relationships and automate queries against the cyber asset inventory and trigger incident resolution through SOAR playbooks or ITSM workflows.
Splunk logs are retrieved by appNovi to visualize network connections between cyber assets. Understanding existing connections provides the ability to identify applications based on cyber asset connection profiles, understand direct and indirect dependencies between application components, and help facilitate effective data center migration.
appNovi aggregates Splunk's security event data and vulnerability information alongside other datasets for visualization to enable effective prioritization for risk management and ensure streamlined non-disruptive incident response. The contextual correlation of vulnerabilities with network traffic help direct vulnerability prioritization while security event data enables security analysis to be done in just a few seconds as opposed to hours with manual processes.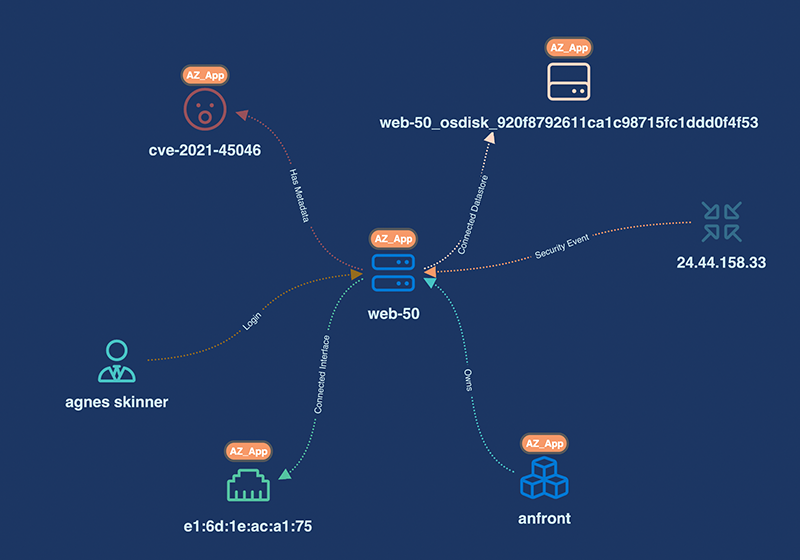 Leveraging cybersecurity mesh to implement business-specific vulnerability management
Learn about the appNovi cybersecurity mesh platform for attack surface identification and mapping, vulnerability management, and incident response enablement.
Resources
Explore how appNovi can help you align to CIS controls to mature vulnerability management, attack surface mapping, incident response, and data center migration processes.