Implement a cybersecurity mesh architecture through security data visualization and analysis
SolarWinds (NYSE:SWI) is a leading provider of simple, powerful, and secure IT management software that enables customers to accelerate digital transformation. Our solutions provide organizations worldwide—regardless of type, size, or complexity—with a comprehensive and unified view of today's modern, distributed, and hybrid network environments. We continuously engage with technology professionals—IT service and operations professionals, DevOps and SecOps professionals, and database administrators (DBAs)—to understand the challenges they face in maintaining high-performing and highly available IT infrastructures, applications, and environments. The insights we gain from them, in places like our THWACK community, allow us to address customers' needs now, and in the future. Our focus on the user and our commitment to excellence in end-to-end hybrid IT management have established SolarWinds as a worldwide leader in solutions for observability, IT service management, application performance, and database management. Learn more today at www.solarwinds.com.
Security Event Manager (FKA Log & Event Manager)
NetFlow Traffic Analyzer
Log Analyzer
appNovi integrates with Solarwind solutions to identify all IT assets monitored through the Solarwinds product portfolio and aggregates IT asset data with other sources to provide a complete IT asset inventory. Aggregating infrastructure data enables the ability to search across assets based on structured queries, and even trigger outcomes through SOAR or ITSM solutions for IT assets that meet a list of set criteria to enable agent coverage for IT assets to ensure security control adherence.
NetFlow data is aggregated with other traffic sources by appNovi and aggregated with other log and telemetry sources to show you existing connections across your multi-cloud or hybrid network. Understanding connections enable effective application modeling and understanding, identification of critical network connections, and enables effective data center migrations and non-disruptive incident response.
Security events are aggregated with the rest of the aggregate IT assets, connections, applications, and identity data to enable efficient analysis of threats or active security incidents. Visualizing events associated with IT assets and their connections enables a lean mean time to resolution (MTTR) in incident response as analysis is reduced to minutes and not hours.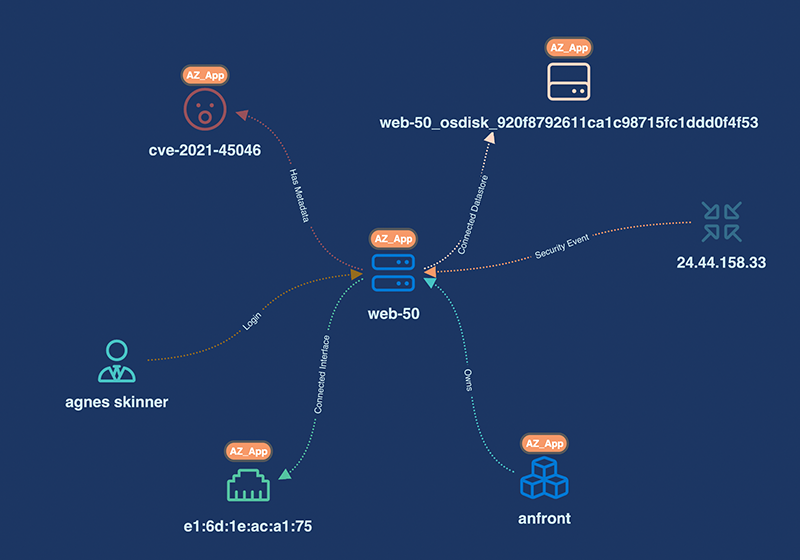 Leveraging cybersecurity mesh to implement business-specific vulnerability management
Learn about the appNovi cybersecurity mesh platform for attack surface identification and mapping, vulnerability management, and incident response enablement.
Resources
Explore how appNovi can help you align to CIS controls to mature vulnerability management, attack surface mapping, incident response, and data center migration processes.