Visualize your network and security services in a cybersecurity mesh
IBM Security QRadar®, a market-leading SIEM solution, helps defend against growing threats while modernizing and scaling security operations through integrated visibility, detection, investigation, and response. QRadar provides security teams with centralized visibility into enterprise-wide security data and actionable insights into the highest priority threats. Security analysts can work from one pane of glass to quickly understand their security posture, identify the most critical threats, and drill down to get more details, helping to streamline workflows and eliminate the need to pivot between tools.
appNovi retrieves log data from IBM QRadar to visualize network IT assets, their connections, and security data. When aggregated with other data sources you can identify gaps in security controls by automating queries and triggering remediation playbooks or tickets or conduct ad-hoc queries across your entire IT asset inventory.
Logs from IBM QRadar are retrieved through API by appNovi to visualize network connections between assets. This information is helpful to identify applications, direct and indirect IT asset dependencies, and understand exposure to untrusted networks.
appNovi aggregates security event data and vulnerability information that is forwarded to IBM QRadar with other data for correlation and visualization to visualize threats, assess risk, and streamline incident response analysis. Visual and interactive models of IT assets, connections, vulnerabilities, application dependencies, and security events enables incident analysis to be completed in just a few minutes instead of hours, while also enabling attack surface identification and mapping to better prioritize risk based on business and network context.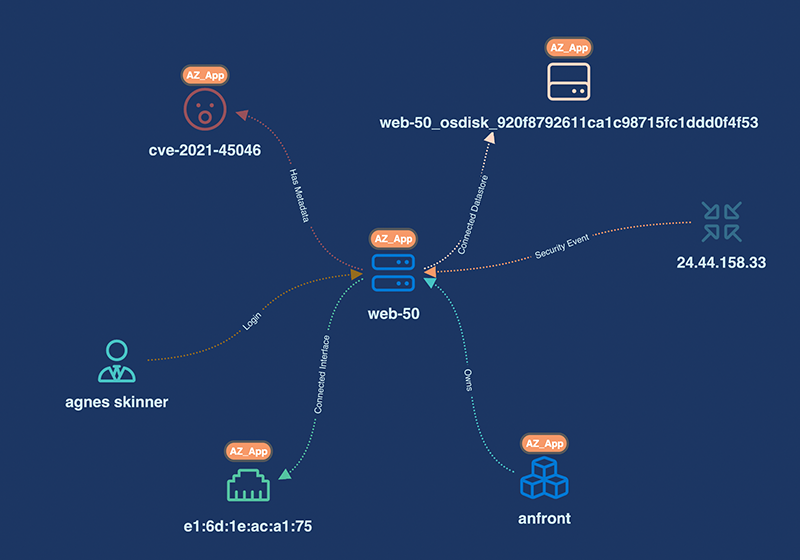 Leveraging cybersecurity mesh to implement business-specific vulnerability management
Learn about the appNovi cybersecurity mesh platform for attack surface identification and mapping, vulnerability management, and incident response enablement.
Resources
Explore how appNovi can help you align to CIS controls to mature vulnerability management, attack surface mapping, incident response, and data center migration processes.